Fiber Optic & Ethernet Cabling Testing & Certification
We can Verify, Qualify, and Certify all Copper and Fiber Cables.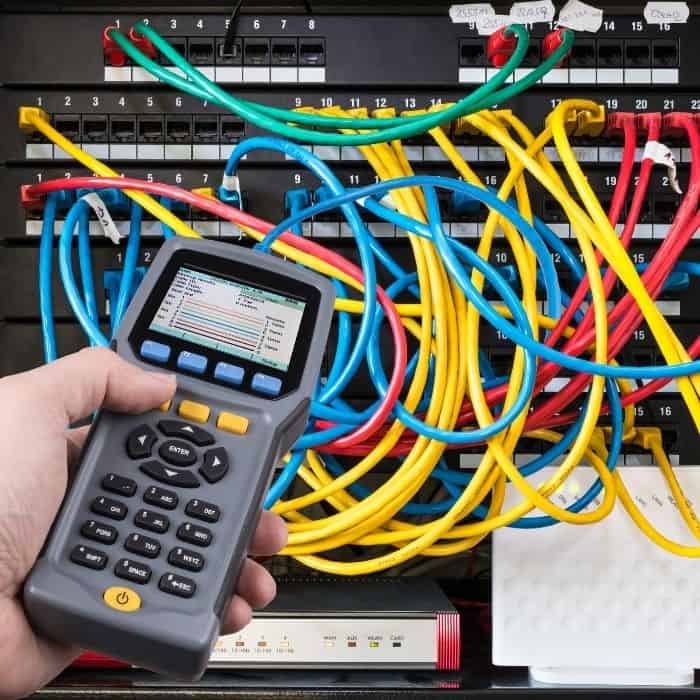 Cable Testing and Certification Services in Northern Colorado.
Backbone Cabling specializes in fiber optic and ethernet cabling testing and certification.  New construction and commercial cabling systems can be extremely complex, you need a trusted 3rd party to verify and certify your new cabling against any faults or connectivity issues.  
We help you get the best possible performance out of your new cabling infrastructure for years of reliable use and minimal downtime.
Our testing methods meet or exceed all standards required for warranties. We are here to help you get the most out of your investment by guaranteeing the integrity of your fiber optic and cabling.
Get a free quote for cabling testing and certification services today.
Verify Cabling Integrity

Maximize System Longevity

Find Trouble Spots in Your Network

Minimize Downtime

Service Accountability
Protect Your Infrastructure Upgrades by Getting Them Certified.
Backbone Cabling is here to Verify & Certify Fiber Optic Cabling & Ethernet Cabling
Fiber Optic Certification
We can guarantee the efficiency of your new fiber optic network or suggest any repairs or upgrades for your business.
Ethernet Certification
Let us help you get the best performance out of your ethernet cabling infrastructure for years of reliable use and minimal downtime.
Install & Repair Cabling
We are a cabling contractor team that specializes in the installation of structured cabling, low-voltage systems, network, wireless, security, phones, and more. 
How Backbone Cabling Verifies & Certifies Fiber Optic & Ethernet Cabling
Cabling Verification 
Verification tools are often used by network technicians and contractors as the first line of defense for cable troubleshooting. Verification test tools allow you to see if each wire pair in the cable is properly connected. Verification test tools perform basic continuity functions (for example, a wiretap test, toning).
These verification test tools sometimes include additional features such as a time domain reflectometer (TDR) for determining length to the end of a cable or to a trouble spot (open connection or break) or short circuit. They may also detect if a switch is connected to the cable under test or check coaxial connections.
Verification tools are ubiquitous, simple-to-use, low-cost tools that should be the first test for new cabling installations.
Cabling Qualification
Qualification tools are more sophisticated tools that network technicians use to troubleshoot and qualify cabling bandwidth. Qualification test tools give you the information you need to decide if existing cabling will support your technology requirements like 100BASE-TX, VoIP, Gigabit Ethernet, and others.
For example, let's assume you have two cables of unknown capability. Both cable A and cable B pass the
verification wiretap test. However, a qualification test may show that cable A is only capable of supporting 10BASE-T, while cable B is able to support 1Gb/s Ethernet.
Qualification tools are much more powerful than verification tools and are designed to enable even the most novice technician to see the data rates that an existing cabling link can support to quickly isolate cabling problems from network problems. This means network techs can close trouble tickets faster and Social Media Fiber and Copper testers reduce on-call time. However, qualification tools do not perform the certification required by cable manufacturers.
A unique feature of many qualification test tools is the ability to diagnose common cabling problems that may limit the cabling bandwidth. An example of information provided by the qualification tester is the distance to an impedance mismatch where two cables are joined. Now the user knows what level of performance the cable can support, the reason the performance is limited, and what needs to be done to fix the problem.
Cabling Certification
Certification test tools demonstrate if a cable complies with cabling standards (such as TIA-568-B Category 6 or ISO 11801 2nd Edition Class E). These tools are used by commercial datacom installers/contractors and enterprise facility managers and are required by cabling manufacturers to ensure that a newly installed cabling system fully meets cabling standards and the cabling manufacturer's warranty. Enterprises often require certification testing before signing off on an installation. Certification is the most rigorous of all cable testing.
A certification tester takes many types of measurements across predefined frequency ranges and compares the detailed results to standards set by the Telecommunications Industry Association (TIA) or International Standards Organization (ISO). The results from these measurements determine if a link is compliant with a category or class of cable (for example, TIA category 5e, category 6, or ISO Class D). Certification tools are the only tools that provide "pass" or "fail" information on the cabling, in accordance with TIA or ISO standards. Additionally, certification testers commonly support optical fiber test options, provide advanced graphical diagnostics, and offer feature-rich reporting capabilities.
We can test your new cabling for any faults and certify your cabling integrity.
Get A Free Quote Now or Get answers quick.
Backbone cabling was a saving grace after a previous installer came in and basically made a mess of our new low voltage installation. John came in, analyzed our challenges, and executed cleaning up and finishing the installation with a level of professionalism that is hard to find today. He took a frustrating situation and turned it into something we walked away from feeling good. I would recommend John for all of your cabling needs; you will not be disappointed.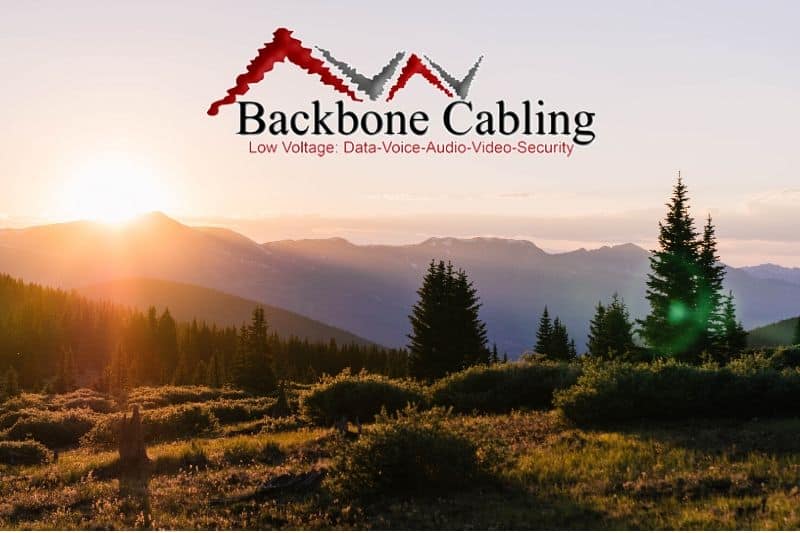 443 N Denver Ave
Loveland, CO 80537
Backbone Cabling
Specializes in Low-Voltage Cabling for:
Commercial Wiring
Industrial Wiring
Medical Equip. Wiring
Office Spaces & Networks
Pre-construction Wiring
Post-construction Wiring
Office Phone Support  
Analog & VoIP
Add Phones
Setup Phones
New Cabling
All Brands 
Data & Network Cabling 
Office Workspaces 
Industrial & Manufacturing
Commercial & Business
Home Networks
Wi-Fi Networks Optimization
Access Points

Point-to-Point

Wi-Fi Coverage

Routers Installed

Guest Networks

Wi-Fi Security
Audio & Video Support
Coaxial & Ethernet

Projectors

TV Mounting

Conference Room Setup

Sound Systems
Security Systems Installed
Camera Installation

Motion Sensors

Alarm Systems

Doorbell Cameras

Access Control